When you have over 100 toys, how to store them becomes a real problem.
Just trow them all in one box. Easy solution but has many problems. Some toys leach there colors onto others. Its hard to go though them to find one you want.
Saran wrap them all. This option is the one I use most. It can accommodate every size and shape toy. Makes them easy to sort. And its cheap. Down side, you have to re do it every year or your toy box just becomes a mess a wrapping and the saran wrap sticks to other toys so you have to be careful when going through your box
Zip lock bags. Great option, keeps all the toys separate and clean. Down side, unless you only have small toys you'll need to buy bags in every size and shape to make it work
A new option I'm trying out is to vacuum pack all the toys into there own packaging. With the rolls you can get making custom bags should be easy and it'll keep every toy clean and fresh ready to use. Only problem I've been able to think of is the texture of the bags being transferred to softer toys. So I'm testing it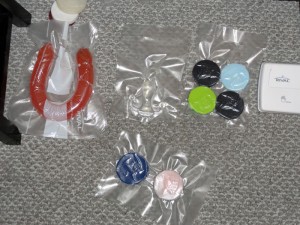 I've Vacuum packed some of Bad-Dragon sample circles in varring firmness and a few other toys to see if the packaging damages them. I'll leave them packed like this for a few weeks and update this posting with the results, I hope it works!