The Wuffamute is by The Best K9 toy I've ever used. I was never a big fan of the k9 style toy; blunt head, nice shaft, unreasonable knot. But the Wuffamute toy stands head and shoulders above the rest (and I dont just mean because its huge XD.)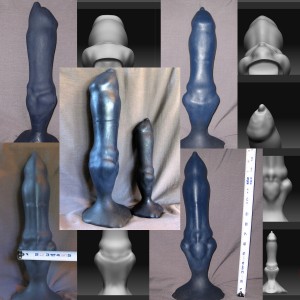 Description from the Website.
Living proof that a pedigree is overrated, this mutt certainly knows a few ways to bury his bone and takes the term 'Doggystyle' to an entirely new level! With its tapered glans and head, rippled knot and the specially designed ridges that help pull it all in deeper, this toy is sure to challenge but make those adventurous enough to fit it all howl in delight! Take it slow, or ride it hard, he'll be there every time to push you to new heights of pleasure!
Pup Dimensions:
Total length: 10 inches
Usable length: 9 inches
Head insertable: 5.5 inches circumference, 1.75 inches diameter
Next bulge: 6 inches circumference, 1.90 inches diameter
Knot width: 2.5 inches diameter at the widest point
Knot length: 3 inches
Price: $50
Adolescent Dimensions:
Total length: 12.5 inches
Usable length: 11 inches
Head insertable: 7.0 inches circumference, 2.3 inches diameter
Next bulge: 7.5 inches circumference, 2.5 inches diameter
Knot: 9 inches circumference, 3.0 inches at the widest part
Price: $100
Wuffamute Dimensions:
Total length: 15.5 inches
Usable length: 14 inches
Head insertable: 8.5 inches circumference, 2.7 inches diameter
Next bulge: 9.5 inches circumference, 3.0 inches diameter
Knot width: 3.85 inches diameter
Knot length: 4 inches
Price $150
Info on the company:
I'm really digging the guys over at Exotic Erotics, They make really good quality toys, and there price are reasonable for the size and process that goes into there toys. This company makes Live Casts of horses and Mold there toys from that, it's all the fun of bestiality with out the stigma. I don't know if they offer this, but every equine live cast toy should come with a picture of the horse who models for it. I'd frame that picture and tell everybody that even though I'd never have sex with that horse; I could totally take him. And as an added bonus, all toys come in there own decorative bag : P
The Wuffamute comes in 3 sizes, Pup, Adolescent, and Full. I own both the Pup, and the Full; I hope to get the Adolescent some time soon, but we shall see. As I said at the top, The Wuffamute is the Best K9 Toy I've ever used. Each of the 3 sizes has roughly the same shape, just the over all size got changed. So think of it as beginner, intermediate, and omg you can shove a car up your butt.
Most toys can be broken down into 3 sections, Head, shaft, and base/knot.
The head of the Wuffamute toy is a little big for the toy, losses some points with me there. I like a toy that's easy to start with lube up shove in. With wuffamute it takes me a little work to first get it in.
The shaft is great, just enough shape so you really feel it, and enough of a difference between the head and knot that you can tell where you are on the to easily, in my opinion, its a perfect shaft.
The Base/knot, and with this toy; boy is that ever a knot. The Wuffamute has a two tier knot system, its much more noticeable on the full size toy, but doesn't present a problem.
Added bonus:
Like many people, I enjoy watching porn while playing with toys, And much like the toys based on porn starts manhood. The Wuffamute toys have plenty of furry porn to go along with his toy. More uniquly hung furs need to do this, NachT, Gorath, I'm looking at you guys.
In short, If you like the K9 style shape in your dildos, want to try knotting, or just really like all of his commissions, This toy is the perfect addition to your collection.