Wow its been a long time since my last post, sorry about that, life and crap.
But in the time I've been gone, my collection has grown! Since as you all know equines are my favorite type of toy, I'm going to share with you my current Equine collection… Even tho I already have 2 more on order.
Now you can see there are quite a few new guys on display here, and Not all are traditional horse cocks.
From the top down
Zeta Creations Thor: Good old Thor, sadly he doesn't get out much, the jell smell is just too much. He stays wrapped up tight and at the bottom of my bin
Bad Dragon New Extra Large Chance Un-Flared: The Newest member in my stable. This custom made Extra Large Chance toy is massive, split firmness, Cum Tube, Beautiful coloring. This is my Big Mac toy.  I love the added detail on the new model of Chance, the Veins, and detail around the head are spectacular! Wish they would have broken Thors record as Biggest Stallion, but I'm still very happy with this toy.
Bad Dragon Old Medium Chance Flared: Now we're getting into the usable sizes for me. Now I'm not the biggest fan of dramatic flares on a toy, but Bad Dragon always has a way of making the details on there toys really standout. Wish they put more detail on the Sheath ring.
Zeta Creations Equine: I forget the exact name of this toy, and it is no longer available on the ZetaPawz website since they retired all there old vinyl toys. Its fun to use and the coloring on it is very well done, only complaint is it being made of vinyl
Bad Dragon Old Small Chance UnFlared: Pretty much the same toy as the flared, but with out the flare. When I'm actually in the mood to use a horse toy, this is the one I reach for first. Smooth, easy to use great detail.
Bad Dragon Old Small Chance Flared: Yeah its a rainbow horse dick, so what.
Fetish Zone "Pegasus V1" Equine Sheath:  While not really a dildo, this is probably my #1 favorite toy. Sheath toys are toys you can wear to give your own member the look and feel of an anthro. I'll have to put Sheath toys on my to review list, because I have a lot of them, and they are all awesome
Bad Dragon Chance Teenie Weenies:  He's Adorable.
Bad Dragon Equiknot:  Whats that? A equine with a knot! omg. Got this one back when it was an Experimental toy. Now its full production, in 4 sizes, and Yes I want them all!
Custom Glass Statue off to the side: Because its glass, it will never be used as a anal toy, but its a work of art that will forever be on display in my house.
---
Wish List
Bad Dragon Tucker the Equinine: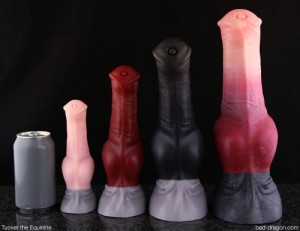 This is the production verson of the Equiknot toy, and I will buy him in multiple sizes!
Bad Dragon Experimental Toy; Stubbs: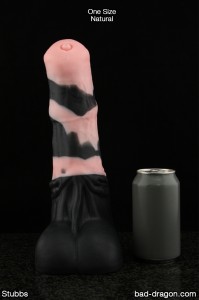 He may be short, but he's thick as hell!
Fetish Zone Pegasus V2: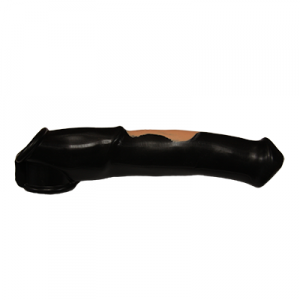 Much better coloring on the V2, and the model it self looks updated nicely. Only problem I can see from the picture is the testicle opening may be too small for me : /
Exotic Erotics Henry & Motown:

Exotic Erotics has a huge collection of live cast Stallions, And I want them all!
Primal Hardware Wareable Neigh Sayer: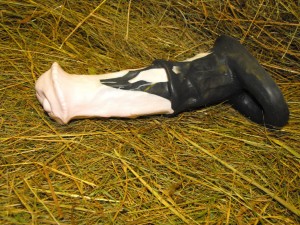 This must be the best looking Stallion wearable on the market, its so perfect, I want to buy two!
Know of any other awesome equine cocks? Please tell me about them!