I started with my Favorite toy, its only fair I do my least favorite toy. The Gel Kit fox leaves much to be desired.
Toy Description from there Website:
Here we have a toy modeled after a Fox. The toy itself is pretty decent sized and is quite fun to use. It is the closest to a natural Fox penis we can get.The dimensions are 1″ across, 3 1/4″ from top of knot to tip, 6″ overall length, the knot is 1 3/4″ across and is 1 1/2″ tall itself.

Details

SKU
SKU161521
Weight

1.00

lbs
Price:
$

25.00

(€

21.75

)
Colors
Firmness

Soft

Medium (Recommended)

Firm

Pros

Vibrating Egg available for +$20.00
Good Starting knot (if only it really knotted)
Cheap
looks kinda like a small bong?

Cons

Very Blunt head
Small Shaft
Too thick for its length
unremarkable knot
Kit Fox was the firs toy I purchased, and it nearly discouraged me from toys all together. at only $25 I though it would be a good way to start, didnt seam too thick at the time, and I liked knots. But the Kit Fox proved to be one of the hardest toys to just pick up and use that I've ever had.
The biggest problem with the Kit Fox is the head, its way to blunt, I have to spend half an hour just getting my self ready in order to use it. I had it for over a year before I was able to take the knot, and by then, it wasn't worth it.
You'll hear me talk about it a lot, but I'm not a size queen, I really don't care how big a toy is. For me its all about the ride of a toy; if i can lay back and just enough the feel of a toy, its size doesn't matter. And that is where the fox fails for me, your either on the knot, or off the toy.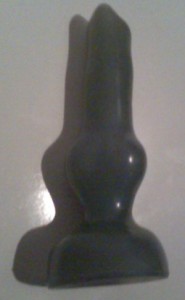 If your a collector like me, and you have to own them all, then be my guest, but if you can only afford so many toys. Wait, save your money, and get the Akita, or Silicone Euro Ruffs Stuff.