Bad-Dragon has never been a first stop for newbie but Duke changes that all. Go buy it now, do it or you suck.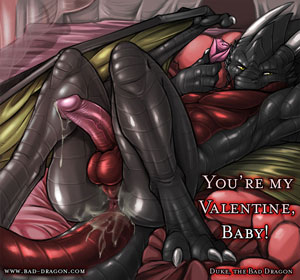 Description from Bad-Dragon Website:
Successful CEO of an international modeling firm by day, adult entertainer by night, Duke the bad dragon spends all of his waking hours catering to those who need his services. If he's not using his creative eye to get the best out of his talent, he's getting in front of the camera himself for a steamy show.
Duke has been with us since the start, so when we asked to get a few castings of his 'talent', he couldn't help but give us what we want. After all, it wasn't hard to convince him once he realized just how many people he could please. After all, Duke loves to show the other dragons how it's done, and there'd no doubt he's one of the sexiest we've cast!
Just imagine what kind of positions his secretary had to go through to get that job; perhaps he can put you through a few too, just for fun.
Full Dimensions:
| | | | |
| --- | --- | --- | --- |
| Size: | small(own) | medium | Large(own) |
| Diameter of Head: | 1.5 Inches | 2 Inches | 2.75 Inches |
| Circumference of Head: | 4.5 Inches | 6.1 Inches | 8 Inches |
| Diameter of shaft: | 1.25 Inches | 2.2 Inches | 2.75 Inches |
| Circumference of shaft: | 4.75 Inches | 6.5 Inches | 8.5 Inches |
| Total Length: | 6.2 Inches | 9 Inches | 11.8 Inches |
| Useable Length: | 5.2 Inches | 7.5 Inches | 9.5 Inches |
You can order the medium and large Duke with a cumtube! Duke Supports all faded colors, but not split colors or firmnesses. Due to the shape of the base, Duke does not support a suction cup.
(Includes a free 8oz/250ml bottle with the purchase of a cumtube) Here.
Price:
Small – $65.00
Medium – $100.00
Large – $145.00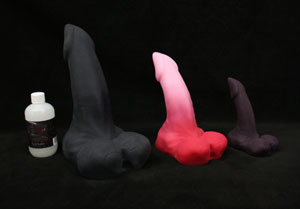 A really good looking Dragon toy, easy to take, and fun to use, and of course Bad-Dragon signature set of nice balls to go along with it.
Head
The Head on Duke here is really easy to take, hard to master. I have two sizes of this toy, small and large, for me, the small is a perfect toy to start with. The large one is more just to look at and for when i'm feeling adventurous XP.
Shaft
Once you crest over the head the shaft won't give you much trouble, it has a genital taper from just behind the head to the base. I love the detailing on it, from the veins that stick out, to the very subtle corpus spongiosum.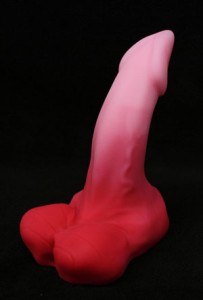 Base
Very broad flat base. They dont have the option to have a suction cup base but you really dont need it, this base has enough service area to really stay in place when you need it too. And the big balls make it very easy to hold onto, even when lubed up.
Optoins
Cumtube available in the medium and large sizes, if you enjoy that go for it, I'll have a review on the cumtubs coming up soon